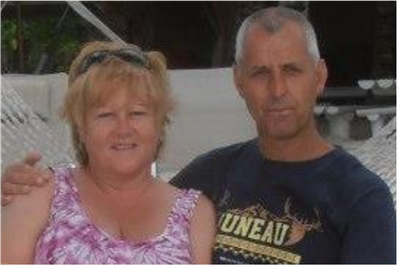 THIS BUSINESS IS FOR SALE....PLEASE CONTACT US FOR MORE DETAILS

Lynn started the company over 15 years ago, after a varied career mainly in catering, and then retail management, with one hand built fountain that was purchased from the North East.

Recognising that there was a gap in the market, she quickly added to the fountain family with different models of differing sizes, until she had 13 of them !

Shocked at some of the prices some companies were charging and some of the tricks that she heard her competitors were using (adding oil to the chocolate and even re_using it !) she realised that there was a need for some profionalism and quickly gained a good reputation, with many repeat bookings.

Paul often joins Lynn on chocolate fountain jobs, and enjoys the buzz of events and chatting to guests.
They are both passionate about providing the finest machines, chocolate and yummy dipping items.

The chocolate used (Barry Callebaut) is the finest Belgian chocolate that you can buy, and is used by Thorntons chocolate shops.....so it must be good !

After 15 years of experience they know the best place to purchase the sweetest and juiciest of fruits and the yummiest confectionary, to make your event memorable.

With a 100% attendance record , you can be assured that they will turn up at your event and never cancel at the last minute (unlike some of there competitors,

They have in the past 15 years, travelled the length and breadth of the Country and have supplied fountains to everyone from the Bank of England and the RAF, to celebrities and even a Dubai Prince !

Based in Peterborough with direct access to the A1, they are willing to travel far and wide to cater at your event.

Lynn recently purchased a wedding decoration business ....so bookmark this page for new and exciting additions.